Title: NOS4A2
Author: Joe Hill
Publisher: William Morrow Paperbacks
Release Date:

October 15, 2013

(first published April 30, 2013)
Acquired Via: TLC Book Tours
NOS4A2 is a spine-tingling novel of supernatural suspense from master of horror Joe Hill, the New York Times bestselling author of Heart-Shaped Box and Horns.

Victoria McQueen has a secret gift for finding things: a misplaced bracelet, a missing photograph, answers to unanswerable questions. On her Raleigh Tuff Burner bike, she makes her way to a rickety covered bridge that, within moments, takes her wherever she needs to go, whether it's across Massachusetts or across the country.

Charles Talent Manx has a way with children. He likes to take them for rides in his 1938 Rolls-Royce Wraith with the NOS4A2 vanity plate. With his old car, he can slip right out of the everyday world, and onto the hidden roads that transport them to an astonishing – and terrifying – playground of amusements he calls "Christmasland."

Then, one day, Vic goes looking for trouble—and finds Manx. That was a lifetime ago. Now Vic, the only kid to ever escape Manx's unmitigated evil, is all grown up and desperate to forget. But Charlie Manx never stopped thinking about Victoria McQueen. He's on the road again and he's picked up a new passenger: Vic's own son.

Exclusive to the print editions of NOS4A2 are more than 15 illustrations by award-winning Locke & Key artist Gabriel Rodríguez.
My Review
As I was reading
NOS4A2
by Joe Hill, I was asked by several people, "Why are you reading that book? I thought you didn't like horror." I shrugged them off because I didn't have an easy answer (I hate horror movies yet love Stephen King fiercely), but as I got further into the book, I learned something about myself as a reader. I may not like the guts, gore, or brutality that is generally found in horror, I very much appreciate the creativity and grotesque beauty of the worlds or scenarios created in the genre.
NOS4A2
is such a well-written, albeit disturbing, novel that it helped me realize this.
NOS4A2
's premise is one that kept me constantly on the verge of chucking the book and burning everything Christmas-related at the house, but I was unable to ever put it down. Joe Hill was able to play upon my motherly fears by creating a world with Charlie Manx, the Gasmask Man, the Wraith, and even Vic's very realistic "delusions". I was able to connect with Vic when she was a child, but I identified with her fears and concerns about her questionable mental health, as well as her burning desire to be a good mother to Wayne. I think every mother (or any parent for that matter) is plagued by self-doubt as to whether or not they are doing right by their children. However, when a monster that preys on children and their mothers gets thrown in, it can make your skin crawl and keep you on the edge of your seat.
The only hang-up that I had with this well-crafted novel is the amount of violence. I realize that it is normative for the genre to have gorey brutality at the forefront, but it still takes away from my overall enjoyment. There was one scene in particular with an animal that was a little darker than what I thought was necessary. However, I will openly admit that I didn't have too much of a problem with a gruesome gas station scene, but I'm not a happy camper if there are critters involved.
Joe Hill's
NOS4A2
is nothing short of what I would expect from a writer who grew up in the home of the horror master, Stephen King, though he is definitely a brilliant writer and world-builder in his own right.
NOS4A2
reminded me of what horror is supposed to like, and I'll be checked out his previous novels,
Heart-Shaped Box
and
Horns
. If you're looking for something macabre for this holiday season, I highly recommend
NOS4A2
. You'll never see Christmas the same again.
- 4/5 Stars -
Buy Links
Amazon | Barnes & Noble | Book Depository | Fishpond
About the Author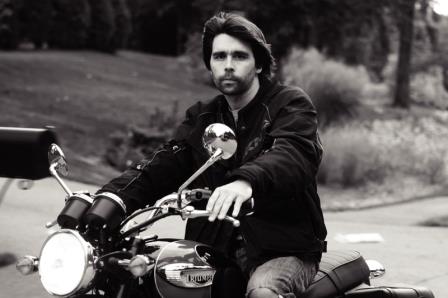 The author of the critically acclaimed
Heart-Shaped Box
, Joe Hill is a two-time winner of the Bram Stoker Award and a past recipient of the Ray Bradbury Fellowship. His stories have appeared in a variety of journals and Year's Best collections. He calls New England home.
Links
Website | Twitter | Facebook | Goodreads
Follow the Tour
Oddities & Entities Tour Schedule
Tuesday, October 22nd
A Bookish Way of Life

Thursday, October 24th
The Best Books Ever

Monday, November 4th
Bibliophilia, Please

Tuesday, November 5th
The House of Crime and Mystery

Wednesday, November 6th
Ageless Pages Reviews

Thursday, November 7th
Love, Laughter, and a Touch of Insanity

Friday, November 8th
Drey's Library

Monday, November 11th
Entomology of a Bookworm

Tuesday, November 12th
The Book Bag

Wednesday, November 13th
The Reader's Hollow

Thursday, November 14th
red headed book child

Monday, November 18th
The Road to Here

Tuesday, November 19th
Olduvai Reads

Wednesday, November 20th
The Scarlet Letter

Thursday, November 21st
Cerebral Girl in a Redneck World
To satisfy FTC guidelines, I am disclosing that I received a copy of the novel from the publisher through TLC Book Tours in exchange for an unbiased review. It has in no way affected the outcome. All expressed opinions are awesome, honest, and courtesy of me.