Top Ten Tuesday is an original feature/weekly meme created and hosted by The Broke and the Bookish.
Top Ten of Kim's Most Anticipated 2016 Debut Novels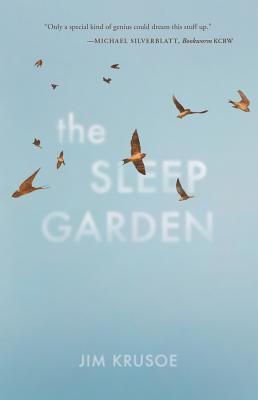 1. The Sleep Garden by Jim Krusoe
January 27, 2016
In an underground apartment building called "the Burrow"--essentially purgatory—"twilight souls" inhabit the space between life and death. Interwoven with their stories are those of inhabitants of the living world: a retired sea captain, a psychotic former child actor (possibly the sea captain's illegitimate son?), and the technicians who monitor the Burrow, making sure its occupants have a constant supply of oxygen and food. Through all of their stories, and the ways in which their lives, past and present, intertwine, Krusoe creates a poignant story about what constitutes a life, what remains when we die, and what we possibly carry with us into the next world.
2. The Dressmaker's War by Mary Chamberlain
January 5, 2016
A gripping, powerful, compulsively readable work of historical fiction: the story of a brilliant English dressmaker caught in Germany during World War II, the choices she must make to stay alive—and the way she confronts those choices in war's aftermath. For readers of Amy Bloom and Anthony Doerr.

In London, 1939, Ada Vaughan is a young woman with an unusual dressmaking skill, and dreams of a better life for herself. That life seems to arrive when Stanislaus, an Austrian aristocrat, sweeps Ada off her feet and brings her to Paris. When war breaks out, Stanislaus vanishes, and Ada is taken prisoner by the Germans, she must do everything she can to survive: by becoming dressmaker to the Nazi wives. Abandoned and alone as war rages, the choices Ada makes will come to back to haunt her years later, as the truth of her experience is twisted and distorted after the war. From glamorous London hotels and Parisian cafes to the desperation of wartime Germany, here is a mesmerizing, richly textured historical novel, a story of heartbreak, survival and ambition, of the nature of truth, and the untold story of what happens to women during war.
3. A Taste for Nightshade by Martine Bailey
January 12, 2016
Manchester 1787. When budding young criminal Mary Jebb swindles Michael Croxon's brother with a blank pound note, he chases her into the night and sets in motion a train of sinister events. Condemned to seven years of transportation to Australia, Mary sends him a 'Penny Heart'-a token of her vow of revenge.

Two years later, Michael marries naïve young Grace Moore. Although initially overjoyed at the union, Grace quickly realizes that her husband is more interested in her fortune than her company. Lonely and desperate for companionship, she turns to her new cook to help mend her ailing marriage. But Mary Jebb, shipwrecked, maltreated, and recently hired, has different plans for the unsuspecting owners of Delafosse Hall.

A Taste for Nightshade is a thrilling historical novel that combines recipes, mystery and a dark struggle between two desperate women, sure to appeal to fans of Sarah Waters and Carolly Erickson.
4. The Luzern Photograph by William Bayer
January 1, 2016
In this fascinating psychological neo-noir mystery, a notorious late 19th-century photograph provides the key to a contemporary murder.

In 1882, the young Lou Andreas-Salome, writer, psychoanalyst and femme fatale, appears with Friedrich Nietzche and another man in a bizarre photograph taken in Luzern, Switzerland. Over thirty years later, an intense art student in Freud s Vienna presents Lou Salome with his own drawing based on the infamous photograph.

In the present day, Tess Berenson, a brilliant performance artist, moves into an art deco loft in downtown Oakland, California. Her new apartment, she learns, was vacated in a hurry by a professional dominatrix who used the name Chantal Desforges. Tess s curiosity about Chantal intensifies when her body is discovered in the trunk of a stolen car at Oakland airport.

Embarking on an obsessive investigation into the murder, Tess discovers a link to the original Luzern photograph and the 1913 drawing but as she gets closer to the shocking truth, Tess finds that she too is in jeopardy.
5. The Locker by Adrian Magson
January 8, 2016
Hello, Nancy.

You're at your usual locker at Fitness Plus. The time is 9:15. Your cell phone is dead, your home phone won't answer and your daughter, Beth, is alone with her nanny.

It will take you eighteen minutes to get home. If you drive fast.

Shame. You're already eighteen minutes late...

The kidnappers' only stipulation is that Nancy must tell her husband, Michael.

Her only problem is, she doesn't know where he is. But she recalls him mentioning a number she must call if anything unusual happens. This triggers a Code Red at specialist security company Cruxys Solutions, who send investigators Ruth Gonzales and Andy Vaslik to track him down.

But they can't find a single trace of him.

What do you do when a child's life depends on finding a man who doesn't seem to exist?
6. Freak Show of the Gods: And Other Stories of the Bizarre by Robert W. Bly
February 1, 2016
Take a trip into the unknown with this collection of mind-expanding science fiction stories in the spirit of Ray Bradbury and
The Twilight Zone
. Freak Show of the Gods presents 34 encounters with the bizarre that uncover unsettling strangeness in the midst of everyday life, including: "Van Helsing s Last Stand": The vampire hunter and his great enemy have one last battle over book royalties, movie rights, and merchandising. "Early Retirement": An aging superhero discovers he cannot qualify for Social Security with tragic results for him and the city. "Tax Time": A genius inventor s plan to build a time machine can be stopped by only one force in the universe an IRS audit. "The Emancipation of Abraham Lincoln XL-3000": The Abraham Lincoln automaton at Disneyworld begs his creators to set him free. And 30 more strange, offbeat and bizarre tales."
7. The Cellar by Minette Walters
February 2, 2016
From the internationally bestselling, award-winning crime writer Minette Walters, The Cellar is a harrowing, compulsively readable novel about a family of African immigrants, the Songolis, and the dark secret they keep hidden in the depths of their seemingly respectable British home.

On the day Mr. and Mrs. Songoli's young son fails to come home from school, fourteen-year-old Muna's fortunes change for the better. Until then, her bedroom was a dank windowless cellar, her activities confined to cooking and cleaning. Over the years, she had grown used to being abused by the Songoli family—to being their slave.

Now that Scotland Yard has swarmed the Songoli house to investigate the disappearance of the son, Muna is given a real bedroom, real clothing, and treated, at least nominally, as a daughter. But her world remains confined. She is not allowed to go outside, doesn't know how to read or write, and cannot speak English. At least that's what the Songolis believe. Before long it becomes clear that young Muna is far cleverer—and her plans more terrifying—than the Songolis, or anyone else, can ever imagine.
8. The Spider in the Corner of the Room by Nikki Owen
June 4, 2016
What to believe
Who to betray
When to run...

Plastic surgeon Dr Maria Martinez has Asperger's. Convicted of killing a priest, she is alone, in prison and has no memory of the murder.

DNA evidence places Maria at the scene of the crime, yet she claims she's innocent. Then she starts to remember...
A strange room. Strange people. Being watched.
As Maria gets closer to the truth she is drawn into a web of international intrigue and must fight not only to clear her name but to remain alive.
9. Harmony Black by Craig Schaefer
February 1, 2016
Harmony Black is much more than your average FBI special agent. In addition to being a practicing witch, she's also an operative for Vigilant Lock, an off-the-books program created to battle occult threats—by any means necessary. Despite her dedication to fighting the monsters threatening society, Harmony has become deeply conflicted about her job. Her last investigation resulted in a pile of dead bodies, and she suspects the wrong people are being punished for it.

While on a much-needed vacation, Harmony gets pulled back into action. This time, though, she's gone from solo work to being part of a team. Their target: the Bogeyman, a vicious and elusive figure…and the creature that destroyed Harmony's childhood.

Surrounded by quirky, fascinating characters as dedicated to one another as they are to their new partner, Harmony must learn to trust her team—and a new romantic interest—on a dangerous and deadly mission that conjures up memories she'd much rather forget.
10. The Dirt on Ninth Grave by Darynda Jones
Jan. 2016
In a small village in New York lives Jane Doe, a girl with no memory of who she is or where she came from. So when she is working at a diner and slowly begins to realize she can see dead people, she's more than a little taken aback. Stranger still are the people entering her life. They seem to know things about her. Things they hide with lies and half-truths. Soon, she senses something far darker. A force that wants to cause her harm, she is sure of it. Her saving grace comes in the form of a new friend she feels she can confide in and the fry cook, a devastatingly handsome man whose smile is breathtaking and touch is scalding. He stays close, and she almost feels safe with him around.

But no one can outrun their past, and the more lies that swirl around her—even from her new and trusted friends—the more disoriented she becomes, until she is confronted by a man who claims to have been sent to kill her. Sent by the darkest force in the universe. A force that absolutely will not stop until she is dead. Thankfully, she has a Rottweiler. But that doesn't help in her quest to find her identity and recover what she's lost. That will take all her courage and a touch of the power she feels flowing like electricity through her veins. She almost feels sorry for him. The devil in blue jeans. The disarming fry cook who lies with every breath he takes. She will get to the bottom of what he knows if it kills her. Or him. Either way.
I know this isn't a debut, but I love this series sooo much, and am super excited for it!
Which debuts are you looking forward to reading in 2016?