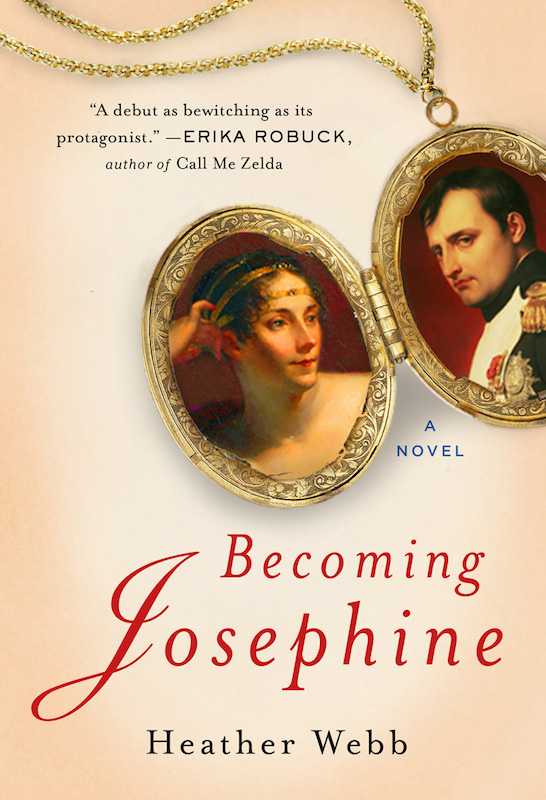 Title: Becoming Josephine
Author: Heather Webb
Publisher: Plume (Penguin)
Release Date:

December 31, 2013


Acquired Via: TLC Book Tours
Rose sails from Martinique to Paris to trade her plantation ways and Creole black magic culture for love and adventure. But her haughty Parisian husband dashes her hopes when he abandons her amid the tumult of the French Revolution. Through her savoir faire, Rose secures her footing in high society, reveling in handsome men and glitzy balls—until the heads of her friends begin to roll.

After narrowly escaping death in the blood-drenched cells of Les Carmes prison, she reinvents herself as Josephine, a socialite of status and power. Yet her youth is fading, and Josephine must choose between a precarious independence and the unwelcome love of an awkward suitor. Little does she know, he would become the most powerful man of his century—Napoleon Bonaparte.

Becoming Josephine is a novel of one woman's journey to find eternal love and stability, and ultimately to find herself.
Praise for Becoming Josephine
"Exceptionally concise and colorful. A worthy fictional primer on Empress Josephine." –
Kirkus Reviews
"Webb holds up a light into the inner recesses of a fascinating and contradictory woman...
Becoming Josephine
is an accomplished debut." —
New York Journal of Books
"Heather Webb's epic novel captivates from its opening in a turbulent plantation society in the Caribbean, to the dramatic rise of one of France's most fascinating women: Josephine Bonaparte. Perfectly balancing history and story, character and setting, detail and pathos, Becoming Josephine marks a debut as bewitching as its protagonist." — Erika Robuck, author of
Call Me Zelda
"Heather Webb's deft storytelling sweeps the reader into the world of Rose Tascher, the Creole girl who would become the Empress Josephine Bonaparte. Rose leaps to life from the first page, a lovable, believable character who must seek her own place in a tumultuous, almost unbelievable era in France. Her compelling tale, enriched with sumptuous detail, dazzles. Don't miss it!" — Lynn Cullen, bestselling author of
Mrs. Poe
"Vivid and passionate." — Susan Spann, author of
Claws of the Cat
My Review
I know most of you who are regular readers here at Bibliophilia, Please have read my ramblings about my studies in history, and I thank you for your continued patience. That being said, one of my history professors was a Napoleonic scholar, so my brain is a bit inundated with his history. However, what I've learned about Josephine was minimal, as well as skewed.
Becoming Josephine
, though historical fiction, introduced me to an extremely fascinating woman that I wish I would have studied years ago.
Becoming Josephine
essentially begins in Josephine's childhood Martique, where she still went by her "Rose".
The story then follows her through her arranged marriage to a Parisian aristocrat, her witnessing slave revolts in Martinique, her incarceration and being widowed during the Reign of Terror, and then on to her great love affair with Napoleon Bonaparte. I must admit that going into
Becoming Josephine
, I had been told that Josephine had been little more than a whore who was passed around among military commanders leading up to her meeting Napoleon, though it had been for her own safety. (See, I told you that it was skewed.) The book presented her promiscuity as something that was her choice and her desire, not her way of essentially whoring herself out of tough situations. I like her much better as a woman in charge of her sexuality than as a woman using sex as a survival tool.
Becoming Josephine
was an engaging read, and it was fairly accurate, based on my own knowledge. I fell in love with Rose/Josephine from the very first pages of the book, and it was impossible to step away from. If you enjoy learning the life stories of people that tend to be overshadowed by their contemporaries, I recommend
Becoming Josephine
wholeheartedly.
- 4/5 Stars -
Buy Links
Amazon | Barnes & Noble | Books-A-Million
About the Author
Heather Webb
is the author of historical novels
Becoming Josephine
and the forthcoming
Rodin's Lover
(Plume/Penguin 2015). A freelance editor and blogger, she spends oodles of time helping writers hone their skills—something she adores. You may find her twittering @msheatherwebb or contributing to her favorite award-winning sites
Writer Unboxed
and
Romance University
. In addition, she is a member of The Historical Novel Society.
Links
Website | Facebook | Twitter | Goodreads
Follow the Tour
Becoming Josephine Tour Schedule

Tuesday, September 2nd
100 Pages a Day... Stephanie's Book Reviews

Wednesday, September 3rd
Reading Reality

Monday, September 8th
Laura's Reviews

Wednesday, September 10th
Lavish Bookshelf

Monday, September 15th
Bibliotica

Wednesday, September 17th
Book Dilettante

Friday, September 19th
Guest Post @ Books a la Mode

Monday, September 22nd
5 Minutes for Books

Tuesday, September 23rd
Literary Lindsey

Wednesday, September 24th
Lesa's Book Critiques

Thursday, September 25th
Brooke Blogs

Thursday, October 2nd
Bibliophilia, Please

Friday, October 3rd
Read Lately
To satisfy FTC guidelines, I am disclosing that I received a copy of the novel from the author through TLC Book Tours in exchange for an unbiased review. It has in no way affected the outcome. All expressed opinions are awesome, honest, and completely my own.