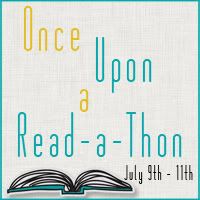 First off, a big shout-out to
Angela at Reading Angel
,
Lori at Pure Imagination
, and
Candace at Candace's Book Blog
for being awesome and hosting the
Once Upon a Read-a-Thon
. I'm pretty behind on my reading because of All The Things*, so I thought this would be a great time to join my
first
Read-a-Thon. *squee* I don't know how much I'll be able to get done due to some extenuating circumstances which have come up (hence the late post about this), but I'm sure I'll get a bit done in the car. Soooooo enough of my rambling. Here's what I'm hoping to read:
I would list more, but I'll be blown away if I can finish three books in three days. I'll post updates here, I reckon, and link my reviews back to this post whenever I get them put up.
Have a great week!
UPDATE #1 - 11:10pm CST July 10, 2012
I'm about 89% of the way through
The Wild Princess
. I hope to finish it before bed. (I had to take a break because I was getting carsick.) I'm super excited about
Lies, Knives, and Girls in Red Dresses
! *dances*
UPDATE #2 - 11:05am CST July 11, 2012
I'm a little over halfway through
Lies, Knives, and Girls in Red Dresses
. I know I probably won't finish
Seraphina
today, but at least I'm on a roll!