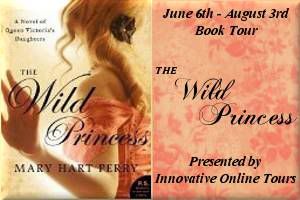 To the court and subjects of Queen Victoria, young Princess Louise—later the Duchess of Argyll—was the "Wild One." Proud and impetu¬ous, she fought the constraints placed on her and her brothers and sisters, dreamed of becoming an artist, and broke with a three-hundred-year-old tradition by marrying outside of the privileged circle of European royals. Some said she wed for love. Others whispered of a scandal covered up by the Crown. It will take a handsome American, recruited by the queen's elite Secret Service, to discover the truth. But even as Stephen Byrne— code name the Raven—vows to risk his life to protect the royal family from violent Irish radicals, he tempts Louise with a forbidden love that could prove just as dangerous.

In the vein of Philippa Gregory, Mary Hart Perry tells the riveting story of an extraordinary woman—a princess who refused to give up on her dreams, including her right to true love.
When I first discovered that
Innovative Online Book Tours
was doing a review tour for
The Wild Princess
, I jumped at the opportunity. Historical fiction is one of my favorite alternatives to science fiction/fantasy. Philippa Gregory is one of my absolute favorite authors, so I could not get my hands on the book quickly enough.
The Wild Princess
does not release until July 31st, so the copy I was provided with was an eARC. That being said, there were barely any technical issues on the
Writing
. The only thing I had a problem with was Princess Louise's name was often misspelled as "Louse", but I am pretty sure something like that was caught before the finished copy was printed. I did not see much symbolism or themes, and that was completely fine with me. This book was nothing but a pleasure-read, despite it being a review.
4/5
The
World-Weaving
was pretty good for a historical romance. I had no problem believing that Mary Hart Perry's interpretation of the British royal family behaved in the manner she described in
The Wild Princess
. Stephen Byrne was a completely fictional character, but there were times that he felt more real than Louise. The supporting characters also lent much to the book.
John Brown
was a real person, and I love that it gives a little wink to their relationship. (I know it is something Perry would have had to mention with the bit of controversy surrounding it, but it was thankfully not overwhelming.) As for the main character, Louise, I quite enjoyed how Perry portrayed her as a woman well ahead of her time, who was passionate and strong-willed. I read a lot of YA with female characters given much freedom and opportunity to be strong, but Louise was born into a gilded cage, and made her life her own in this novel. The Civil War ammunition veterans who worked for the Fenians were my least favorite characters, but they were needed antagonists in the plotting of the story. Louise's husband, Lorne, was also somewhat of an antagonist, but he was not evil or even unlikable for me. Yes, he was not the man that Louise deserved, but that was how it went in "arranged" marriages. (Historically, Lorne and Louise's marriage is usually described as a "love match", but Perry did not use that scenario at all. I will not spoil it for you.) Victoria was also a bit of a villain when it came to Louise, but as a mother and a historian who understands the necessity of maintaining royal perfection, I did not begrudge any of her actions. She was merely a mother who wanted to protect her daughter, her family's reputation, and the monarchy.
The setting itself was enjoyable because it had Fenian plotting at every turn to create tension in the beautifully described royal opulence. Louise's time spent in the more common areas of London also seemed very real. The scenes with the royal family traveling or on the parade route were some of my favorites, and I did not even care to check the historical accuracy of it. (That is usually one of the first things I check.) Did a royal take a bullet for Victoria or face death during another attack? I don't know, but it was a lot of fun to imagine that she did.
4.5/5
The
Pacing
of the story was the one problem for me. I enjoyed the story itself, but there were periods of time that I felt like nothing was happening. The blame for this can be easily blamed on the fact that I've read quite a few novels lately that are action-packed, and it's been a while since I've read an adult novel. When all the pieces came together, I could not put the book down. I suppose I was just impatient for Louise and Stephen to come to terms with what was happening around them. Perry also made us aware of nearly every aspect of the plots against the royals, so there was not much suspense about what would happen - only a question of when.
There was a few flashbacks in the story that helped the characterization of Louise, which made
The Wild Princess
more enjoyable for me. Those were some of my favorite parts of the novel. There was also a side plot point that involved one of Louise's school friends that I would have liked to seen wrapped up, but some questions have no answers.
3/5
My
Attention Span
would have been a lot shorter when it came to this book, and I would not have read it nearly as quickly if I had not read it during the
Once Upon a Read-a-Thon
. I'm glad that I pushed myself through it because it really was a lovely book. However, there were outside forces at work here, so I don't feel I should offer a score based on this factor.
The
Extra Magic
for me came from the story Perry created based on rumors and whispers from the Victorian era. There is no historical evidence that some of the events in this book occurred, but it is a lovely to think that Victoria is spinning in her grave from the liberties taken with the royal family. Louise was given a life I feel that she deserved, and I have no doubt that was the author's intention. Every woman should have a great romance and fictitiously giving one to a princess whose life was never her own was a beautiful tribute to her life.
4.5/5
Overall, I found
The Wild Princess
to be a lovely example of historical romance. I would be hesitant to compare it to the novels by Philippa Gregory except as a reference point personally, but that is merely because Mary Hart Perry has a style that is all her own. I look forward to reading her future novels about the Victorian princesses.
Mary Hart Perry lives in Maryland with her husband and two feline writing partners: Miranda and Tempest. She teaches at The Writer's Center in Washington, DC and is an inspiring speaker for international and regional organizations interested in the joys of history and fiction writing. She is an advocate for teen and adult literacy. You can reach her at
Mary@MaryHartPerry.com
. She invites you to visit her
Website
, "like" her
Facebook Page
and follow her on
Twitter
.
Giveaway
As a part of the blog tour, Mary Hart Perry and her publisher are being kind enough to offer an
ecopy
of
The Wild Princess
to one lucky reader of
Bibliophilia, Please
. Unfortunately, this giveaway is open only to the residents of the US and Canada. The winner will be chosen on July 31, 2012. To enter, all you need to do is fill out the following Rafflecopter form.
a Rafflecopter giveaway
To satisfy FTC guidelines, I am disclosing that I received the book for free through Innovative Online Book Tours in exchange for an honest review. It has in no way affected the outcome. All opinions expressed are mine and mine alone.