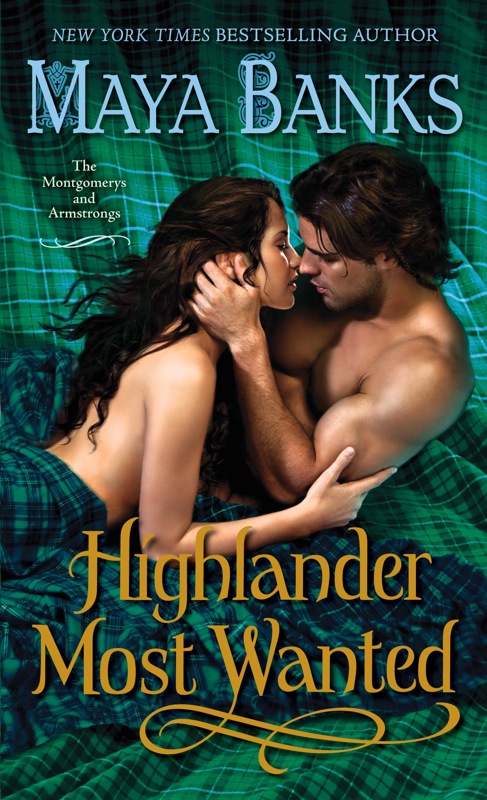 Title: Highlander Most Wanted (The Montgomerys and Armstrongs #2)
Author: Maya Banks
Publisher: Ballantine Books (Random House)
Release Date:

March 19, 2013


Acquired Via: TLC Book Tours
In Highlander Most Wanted, a reclusive woman content to live in the shadows shows a Highland warrior the true meaning of love.

Genevieve McInnes is locked behind the fortified walls of McHugh Keep, captive of a cruel laird who takes great pleasure in ruining her for any other man. Yet when Bowen Montgomery storms the gates on a mission of clan warfare, Genevieve finds that her spirit is bent but not broken. Still, her path toward freedom remains uncertain. Unable to bear the shame of returning to a family that believes her dead or to abandon others at the keep to an imposing new laird, Genevieve opts for the peaceful life of an abbess. But Bowen's rugged sensuality stirs something deep inside her that longs to be awakened by his patient, gentle caress—something warm, wicked, and tempting.

Bowen seizes his enemy's keep, unprepared for the brooding and reclusive woman who captures his heart. He's enchanted by her fierce determination, her unusual beauty, and her quiet, unfailing strength. But wooing her will take more than a seasoned seducer's skill. For loving Genevieve, he discovers, means giving her back the freedom that was stolen from her—even if it means losing her forever.
My Review
Highlander Most Wanted
is the second book in the
Montgomerys & Armstrongs
series by
New York Times
best-selling author Maya Banks. It picks up after the events of
Never Seduce a Scot
(
my review
) at the McHugh stronghold/castle/keep. Each book can be a standalone, but I am glad that I read them in order.
While reading
Highlander Most Wanted
, I realized how important characters are in a novel. Nothing in the book that happened really surprised me, and there wasn't much in the way of world-building. I'm not saying this in a negative way - there's really not supposed to be in this historical romance and the writing was still good.. There was, however, these wonderful, charming, and complicated characters that I found myself really invested in. Want a big surprise? I usually avoid literary rape victims or situations at all cost. Want to know why? Too bad, that has nothing to do with the review. Anyway, Maya Banks handled Genevieve and her story in such a way that was not uncomfortable and believable (mostly). I think I read the book because I thought Genevieve deserved a man that would heal her and love her, and make her world right. I wanted her to be fixed. She was a broken woman would never gave up at any point, and I
liked
her.
The other characters in the novel did not draw me in quite as much, but I did enjoy reading them. Bowen Montgomery, the male protagonist, is a ladies' man who storms the McHugh keep with his brother and the kin of his sister-in-law. He is beguiled by the beautiful, scarred Genevieve and learns what it means to be in love. I loved watching him grow as a character because he acknowledged the way he made the women of his past feel and felt guilty. Let's be honest - he was a man-whore before, and it was sweet that he did not care that his lady was "used goods". (Why is there not more of this in the book world or anywhere?) So, he feels bad for his whoring and falls in love with a woman who needs to be loved. It really makes everything feel right with the world.
Taliesan McHugh played the part of "heroine's best friend", and she didn't really serve a lot of purpose in the book other than being really nice to Genevieve. I think the reason that we didn't get her back story or any kind of development is that this book is a part of a series, and
Highland Ever After
is coming out in September. (I'm not complaining.)
As I said before, the story was at the McHugh castle/keep/whatever with the characters hanging around while everyone figured out what would be done with the clan. The laird had hauled his biscuits, along with most of the supplies and warriors, and left the women, children, and the odd husband/father to their own devices. They were fairly awful people, and I think they were merely tools to show what a good person Genevieve was. (If you thought Eveline was treated badly in
Never Seduce a Scot
, just you wait.) There was fighting and bonding and banter and falling in love, and it was fun to read. The dialect still bothered me a bit, but I really think I'm mostly over the "tis" and "twas" thing.
To the point, and to wrap things up,
Highlander Most Wanted
is a really good book with appealing characters and a nice story. It
is
a historical romance novel, so there is sexytime (and much more than the first book). I think if you enjoy reading historical romance, this is not a book to pass up. I probably wouldn't have started reading this series on my own, but I will be continuing it.
- 4 Stars -
Buy Links
Amazon | Barnes & Noble | Book Depository | Fishpond
About the Author
Maya Banks
is the New York Times bestselling author of
Highlander Most Wanted
,
Never Seduce a Scot
,
In Bed with a Highlander
,
Seduction of a Highland Lass
,
Never Love a Highlander
,
The Darkest Hour
,
No Place to Run
,
Hidden Away
,
Sweet Possession
,
Sweet Temptation
,
Colter's Woman
, and
Colter's Lady
. She lives in Texas with her husband, three children, and an assortment of pets.
For more information on Maya and her work, please visit her website,
mayabanks.com
.
Follow the Tour
Be sure to check out all of the stops on the tour for reviews and giveaways. These are some fantastic blogs, so I highly recommend that you give them a quick visit!
Monday, March 18th - Book Lovin' Mamas

Monday, March 25th - Bibliophilia, Please

Tuesday, March 26th - A Fair Substitute for Heaven

Wednesday, March 27th - Peeking Between the Pages

Thursday, March 28th - The Book Pushers

Monday, April 1st - Sharon's Garden of Book Reviews

Tuesday, April 2nd - Mom in Love with Fiction

Wednesday, April 3rd - Love, Romance, Passion

Thursday, April 4th - In the Hammock

Saturday, April 6th - Unabridged Chick

Monday, April 8th - A Chick Who Reads

Tuesday, April 9th - Ticket to Anywhere

Wednesday, April 10th - Passionate Encounters

Thursday, April 11th - The Romanceaholic

Monday, April 15th - 5 Minutes for Books

Wednesday, April 17th - Romancing the Book

Friday, April 19th - From the TBR Pile
Giveaway
TLC Book Tours is offering up a copy of
Highlander Most Wanted
to one of my readers. The winner must have an address in the
US or Canada ONLY
. (So if you're an international reader and have a buddy that is willing to send the book to you, that's fine.)
Ends at 12:01am EST on April 9th
a Rafflecopter giveaway
Highlander Most Wanted Tour Schedule
To satisfy FTC guidelines, I am disclosing that I received a copy of the book from the publisher via TLC Book Tours in exchange for an honest review. It has in no way affected the outcome. All opinions expressed are rambling, honest, and completely my own.